A message from our principal.
St. Patrick School Community:
Greetings from the school office! I believe Father sent an email to school families with a bio of my background, but I wanted to introduce myself to you as well. In short, while I technically retired at the end of last school year, I started this week (this past Tuesday) as part-time Interim Principal at St. Patrick Catholic School. I have served in Catholic Schools in the Archdiocese of St. Paul-Minneapolis and the Diocese of Superior for 33 years as a teacher, Assistant Principal, and the last 25 years as a 4K-Grade 8 Principal. I am married (my wife Kathy is a retired 3M Systems Analyst/IT Project Manager), we have two sons who are married, and five grandchildren ranging in age from 18 months to 18 years. My wife and I are both from Wisconsin Rapids (alums of Catholic grade schools there and Assumption High School) and we now live in New Richmond, WI.
The first few days this week have been a whirlwind with all the new faces–even if masked :). On Tuesday I met and spoke briefly with the faculty and staff before school, had lunch and several meetings with Father, completed my background check paperwork for the diocese, and worked on finding my way around the school building. I also spent some time in jail. I needed to get fingerprinted which is part of the background check process. I haven't had to do that in years, and it's all digitized now–no more ink! Wednesday was Mass with the even-numbered grades, and Father gave me the opportunity to introduce myself to the students at the end of Mass. I completed my diocesan Safe Environment Training online and I also attended a Zoom meeting with the Health Department for an update on COVID cases and protocols. I also found time to walk around school and pop in on a few classes. As I write this it's Thursday, so the day is still unfolding. I attended Mass and spoke with the students in the odd-numbered grades, and I worked with our school secretary, Anita, to shuffle staff schedules somewhat due to a teacher absence and the inability to secure a sub. I am filling in for some recess duty, and I also have my first St. Patrick Catholic School Education Committee meeting this evening.
Probably too much information, but I thought I'd share my first few days. I have been so impressed with everyone I have met so far. The students and staff have been polite, friendly, and so welcoming! Thank you for that! You know you have a great Catholic school here, and thank you parents, parishioners, and benefactors for your continued prayers and support.
Again, I'm part-time but I'm on board. I'd invite you into the building to stop by and say "hi," but unfortunately, that's a "COVID can't." I often try to be outside in the morning and at dismissal so please wave or or give me an "air high five" as the kids have been doing!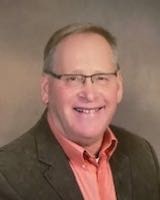 God bless!
Mr. Stanke, Interim Principal
St. Patrick Catholic School